The events listed here are video conferences unless stated otherwise.  All will be organized in accordance with Covid-19 restrictions, so check back for changes.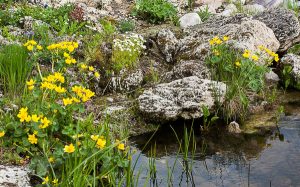 This is a hands-on workshop that will look at the creation of a beautiful water feature. Rob has extensive experience in creating water gardens and has learned the intricacies of creating a functional water system and how to avoid some common mistakes. Rob will do a quick review of some of the material from Part One (a talk in early 2020), using his extensive pond and stream system as an example. The class will continue on with: an onsite review of the types and purposes of water features; key interests and design considerations; discussion of materials and construction and mock-up of some of the most important details and techniques involved in creating a beautiful water feature. Participants will be able to ask questions about their specific interests and there may be an opportunity for a case study.
Workshop will go rain or shine, so please dress accordingly for the weather. Bring a good pair of work gloves and sturdy footwear, also a hat, water bottle, sunscreen and bug repellent.
Date and time: July 24 @ 9-1  rain or shine
Cost: Members $25  Non-members $35. Limit of 15 participants.
Please register through Eventbrite . 
If you unable to pay through Eventbrite, please email Elaine Rude to make other arrangements.
Registered participants will receive an email providing directions to the workshop site in the Bearspaw area, NW of Calgary.
Instructor Rob Staniland
Place:  Staniland residence in Bearspaw area (directions will be provided to participants)
Date and time:  Sunday May 15  9:00am – 12:00pm
Participants:  Maximum 10
Cost:  $25 members  $35 non-members.  Please click this Eventbrite Link  to register and pay for the workshop.  If you are unable to pay online through Eventbrite, please email Elaine to make payment arrangements.
This hands-on workshop will begin by identifying design considerations for composing crevice gardens by observing the characteristics of a variety of existing gardens features. The first hour will be a discussion on the stone and materials required as well as on shapes, orientations and surface and internal drainage.  In the second hour, participants will have some hands on practice in crevice construction using various stone types, especially related to their size and shape (stratified, cubic, random and round) .
Participants will then help finalize the design details and begin the construction of a new crevice feature intended to modify existing exposures on a south facing slope.  The goal is to both exaggerate and reduce the influence of the sun.
As this is an outside workshop please dress accordingly for the weather.  Bring a good pair of work gloves and a sturdy pair of work boots as we will be working with heavy rock, also a hat, water bottle, sunscreen and bug repellent.