This Zoom hybrid meeting will feature Adam Yakabuskie speaking on the types and cultivation of peonies in our area. Adam is the owner of Parkland Peonies.  Adam says, "I grew up on a small farm in Ontario and for
us kids working on the land was more of a chore than a pleasure. However, that experience made me receptive and appreciative of the beauty of living plants. So when I moved to Calgary in my 30's, the desire to grow flowers came naturally to me. Together with my first wife we turned bare land of our yard into a beautiful flower garden. In 2008, our passion for horticulture got us featured in Vol. 22 "Gardens West" magazine as the winners of the monthly garden competition!
At that time, I also started growing and breeding Asiatic, Oriental and Martagon Lilies on a little piece of land that I was renting from a local farmer. I had much delight in seeing these beauties grow and bloom for me every year: the only thing that set me back was the constant fight with the lily beetle that seemed to be liking my lilies way too much.
However, my dream to live on the land and develop gorgeous gardens and flower fields for people to visit and enjoy became even bigger. It was around that time in 2016 that I was offered to purchase a peony business from Bob Yaremko, who had a collection of 450 peony varieties – Bob was the owner of Parkland Perennials which had a rich history of delivering customers with beautiful peonies for almost 40 years. Once introduced to the beauty, hardiness and magnificence of the peony plant I decided to continue Bob's legacy".
This meeting, held in-person at Lakeview Community Hall, will be live-streamed via Zoom for those members at home.   CRAGS members who wish to participate via Zoom do not have to register.  Non-members who wish to participate in the Zoom talk may register via Eventbrite.
The public is also welcome to attend the in-person meeting and get to know our club.
Our monthly meeting will feature a Zoom talk on Sunday February 5 at 10:00am MST, from Harry Jans of the Netherlands.  Harry, an accomplished alpine gardener and traveler, will discuss "Alpines Down Under":  We'll  look at Alpines in Australia and Tasmania, which is an unknown area for many of us, but with a wealth of very attractive (alpine) plants and other interesting species.
Harry Jans has been employed since 1982 by the Dutch Ministry of Infrastructure and Environment as an expert on Winter Maintenance. Beside this he is a passionate plant explorer and rock gardener for more than 40 years and is also founder member of the Dutch Rock Garden Society of which he has been President for six years. In 2014, he received the prestigious Alpine Garden Society (AGS) Lyttel Trophy, the highest award for individuals who have made a substantial contribution to the knowledge of alpine plants. Harry is a regular lecturer at conferences and study weekends in many countries throughout the world and has written many articles on various plant subjects. His own garden is well known for its tufa wall with a large colony of the rare and difficult Jancaea heldreichii growing on it. Harry has led and organised many botanical tours to various mountain ranges throughout the world. His website www.jansalpines.com contains more than 28.000 pictures, as he is also a keen photographer, taken during his travels around the globe in search of alpine plants.
CRAGS members will be sent an email with the Zoom links, and do not have to register.  Non-members are welcome to register in Eventbrite for a small fee to attend the Zoom talk.  The talk will be recorded and posted, and the recording will be available for one week after posting.
Ian Young, a distinguished gardener and author from Aberdeen, Scotland, will speak to CRAGS about plants in the Ericaceae family, which includes heathers, rhododendrons and many others.
Ian Young has had a lifelong interest in plants and along with his wife Margaret has developed a well-stocked garden in Aberdeen. Over more than forty years the trees and shrubs have matured and Ian has developed a rich under planting of bulbs and woodland plants which provides a progression of seasonal colour, texture and form. Most of the plants, including bulbs, trees and shrubs, have been raised from seed.
Ian is also experienced in alpines and rock gardens having developed various innovative ways of making troughs including the method of turning polystyrene (Styrofoam) fish boxes into troughs that mimic the appearance of real stone. At the Scottish Rock Garden Club he has won many Gold Medals and Best in Show Awards at National Shows using these troughs and this method has been taken up widely, with demonstrations of the technique being given across the UK, in New Zealand, Canada and America by all sorts of different alpine groups.
For twenty years Ian has written a weekly online diary, the Bulb Log, where he shares his enthusiasm for plants and their garden. In 2015 he also started a YouTube channel where there are over 180 videos from the garden.
He has published an electronic book 'Erythroniums in Cultivation' which is available for free download at SRGC.net
Ian has lectured widely in the UK, Europe, Scandinavia, New Zealand, USA and Canada including at many prestigious international conferences. For over 15 years he was a regular broadcaster on BBC Radio Scotland.
Ian is also an artist and photographer and uses both these skills in the garden and his presentations.
In 2007 he and Margaret were honoured to be (jointly) awarded the Queen Elizabeth, the Queen Mother Medal by the Royal Caledonian Horticultural Society for outstanding service to Scottish horticulture. In 2008 Ian was awarded the SRGC Golden Jubilee Salver for outstanding service to the SRGC. In 2020 Ian was awarded the Veitch Memorial Medal by the Royal Horticultural Society for 'exceptional involvement in the advancement of the science art and practice of horticulture'.
This will be a Zoom-only meeting. Members will receive an email reminder with the links prior to the meeting.  Non-members may register on Eventbrite for a small fee for the talk.
This will be a combined in-person and Zoom meeting, starting at 7 pm.  Members will receive a reminder email with the Zoom links.
First, CRAGS' Annual General Meeting for fiscal year 2021-2022 will take about 30 minutes, followed by our speaker.
Our speaker, Ken Wright, will discuss growing native plants and will be at Lakeview Hall to include a demo of cleaning seeds, stratifying and planting methods.
Ken Wright is the founder of Bow Point Nursery, and he presently owns Wright Nursery, a wholesale nursery started in 2015 as a supplier of native seed sourced plugs and seedlings.
In 1988 Ken and his wife Pam started Bow Point Nursery with the objective to supply native, indigenous woody plants for urban and rural landscapes. Initially Ken was growing and starting the nursery, Pam was landscaping and using the plants they grew in her landscapes. As time passed and the nursery got busier, Pam shut down landscapes and they started working together at Bow Point Nursery. Ken says, "We learned as we grew – when to pick seed (right before the birds take it) , propagation methods and the marketing of native woody plants. And of course, travelling the back roads of Southern Alberta looking for the native plants growing there. We always were looking for the trees and shrubs that were growing in the most rigorous sites – those open, full sun, windy and generally harsh conditions – of which Southern Alberta has many. That became our full time focus – selecting plants and seed sources, picking seed, cleaning and storing seed, germinating/propagating and growing those plants into landscape sized trees and shrubs.
In 2015 we sold Bow Point Nursery – our goal was to move to a new site 2 hours north by Caroline, Alberta. We did start a new nursery -with a different goal – to focus on selecting plants, collecting seed and propagating our native trees and shrubs. The main difference this time around – no retail and no employees. It has been a great adventure which continues".
This will be a combined in-person and Zoom meeting.starting at 7pm.
Gary Stedman is a former board member of the Calgary Rose Society.  His interest in gardening started at a young age working with his grandfather in his vegetable garden in Southern Ontario.  After retiring, he and his wife have been successively rehabilitating their various flower and vegetable beds and introducing roses into the mix. At the Ann and Sandy Cross Conservation Area, he is leading a special project to re-introduce native grasses and plants and remediate a natural growth area. Over the past couple of years, he has taken advantage of the emerging virtual training options, completing a number of courses in insect identification and management, zone 3 vegetable gardening, and, most recently, gaining his Master Gardener of Alberta Certification.
Check out CRAGS' annual "Last Chance Plant Sale" on Thursday Sept 8 from 6pm to 7pm, outdoors at Lakeview Community Hall, 6110 – 34th Street SW, Calgary.  Member growers will offer a variety of alpine and other plants and now that the heat wave has passed, we should be able to get them in the ground!
Then at 7:30pm, we are delighted to welcome Calgary speaker Janet Melrose, who will talk about Rewilding the Urban Garden. 
This will be a combined in-person and Zoom meeting, to be held at Lakeview Community Hall.  Members will receive an emailed reminder with the Zoom links.  Non-members who wish to view the Zoom talk may register at Eventbrite for $8.
Wilding or perhaps more appropriately "rewilding" the garden looks gardens in a different way than the usual tamed spaces that have dominated gardening for the past few decades. Instead of attempting to control nature the goal is to invite nature back to our gardens.
In our current environment where climate change, loss of habitat and unceasing human incursions into wild areas is putting all species at risk, letting go of old values and ways of gardening and embracing the wild side is an important way for gardeners to contribute to creating healthy ecosystems, with habitat for wildlife, and even cumulatively modify our climate.
This talk will look at the down to earth design and cultural practices that we can use to make our gardens refugia for pollinators, other beneficial insects, birds and other life.
Janet Melrose is 'Calgary's Cottage Gardener'- Garden consultant, coach, educator and Horticultural Therapist. Her motto is 'Grow, Nurture, and Bloom'.
She shares her passion for gardening and knowledge through workshops and writing for 'The Gardener for Cold Climates' and 'Calgary Gardening' magazines, and now co-author with Sheryl Normandeau for the Guides for Prairie Gardeners series of books.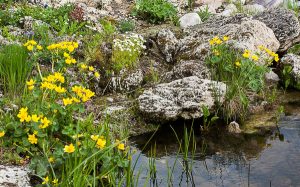 This is a hands-on workshop that will look at the creation of a beautiful water feature. Rob has extensive experience in creating water gardens and has learned the intricacies of creating a functional water system and how to avoid some common mistakes. Rob will do a quick review of some of the material from Part One (a talk in early 2020), using his extensive pond and stream system as an example. The class will continue on with: an onsite review of the types and purposes of water features; key interests and design considerations; discussion of materials and construction and mock-up of some of the most important details and techniques involved in creating a beautiful water feature. Participants will be able to ask questions about their specific interests and there may be an opportunity for a case study.
Workshop will go rain or shine, so please dress accordingly for the weather. Bring a good pair of work gloves and sturdy footwear, also a hat, water bottle, sunscreen and bug repellent.
Date and time: July 24 @ 9-1  rain or shine
Cost: Members $25  Non-members $35. Limit of 15 participants.
Please register through Eventbrite . 
If you unable to pay through Eventbrite, please email Elaine Rude to make other arrangements.
Registered participants will receive an email providing directions to the workshop site in the Bearspaw area, NW of Calgary.
We will reschedule this session when there is less rain in the forecast.
We will be planting some seedlings of native and alpine plants that were grown in the Botanical Gardens of Silver Springs nursery beds, into the Crevice and Native Plant areas. Lots of things are blooming so it is a good time to visit these gardens.
Come and learn the techniques for planting into crevices and sand. Bring your weeder, trowel, small bucket, gloves, kneepads, etc.  For more information please contact Linda at vp@crags.ca
Heinjo Lahring from Bearberry Creek Greenhouses will speak about the magic that water can bring to the garden.
Topics will include:
• What you should know before you dig
• The backyard oasis
• Aquatic plant selection
• Providing for water plant needs
• Create – maintain – refresh
Biologists Jan and Heinjo Lahring will be celebrating 40 years of growing ornamental and native plants at Bearberry Creek Greenhouses, Nursery & Water Gardens located in the foothills west of Sundre, Alberta. Heinjo is author of the book 'Field Guide to the Water and Wetland Plants of the Prairie Provinces'. Their nursery specializes in growing aquatic plants for northern gardens.
This will be a combined in-person and Zoom meeting, to be held at Lakeview Community Hall, 6110 – 34th Street SW, Calgary, starting at 7:00pm.  Members will receive an emailed reminder with the Zoom links.

Everyone is welcome at CRAGS' plant sale, to be held on Saturday June 4 from 12 noon to 4pm at Lakeview Community Hall.  Click for more details
Instructor Rob Staniland
Place:  Staniland residence in Bearspaw area (directions will be provided to participants)
Date and time:  Sunday May 15  9:00am – 12:00pm
Participants:  Maximum 10
Cost:  $25 members  $35 non-members.  Please click this Eventbrite Link  to register and pay for the workshop.  If you are unable to pay online through Eventbrite, please email Elaine to make payment arrangements.
This hands-on workshop will begin by identifying design considerations for composing crevice gardens by observing the characteristics of a variety of existing gardens features. The first hour will be a discussion on the stone and materials required as well as on shapes, orientations and surface and internal drainage.  In the second hour, participants will have some hands on practice in crevice construction using various stone types, especially related to their size and shape (stratified, cubic, random and round) .
Participants will then help finalize the design details and begin the construction of a new crevice feature intended to modify existing exposures on a south facing slope.  The goal is to both exaggerate and reduce the influence of the sun.
As this is an outside workshop please dress accordingly for the weather.  Bring a good pair of work gloves and a sturdy pair of work boots as we will be working with heavy rock, also a hat, water bottle, sunscreen and bug repellent.
Everyone is welcome to join CRAGS and BGSS at this informal event to celebrate Year of the Garden in Canada.   CRAGS and the Botanical Gardens of Silver Springs collaborated on the building of an Alpine Crevice Garden and Native Plants Garden, starting in 2016. Here is the BGSS invitation:
The year of the Garden in Canada:  t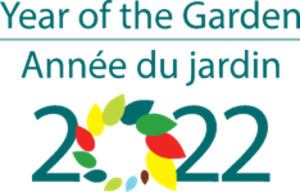 his proclamation is a first for Canada and the Botanical Gardens of Silver Springs is very committed to participating with multiple activities through the spring, summer, and fall.  In honor of this celebration the Year of the Garden Committee is asking you to plant 'Red" this year.  Think of all the possibilities between the red blooms, red leaves and red produce like apples, tomatoes etc.
Please come and join us as we partner with various specialty gardeners to highlight and display our gardens.  On May 14 we will be partnering with the Calgary Rock and Alpine Gardens Association.  They will be providing a learning session at the Alpine, Crevice and Native Plant Garden in the Northeast corner of the park.  It will occur from 10 am until 2 pm and will have experts on crevice gardening in attendance
A panel of CRAGS gardeners will share their knowledge and experience with troughs. Chaired by Ranald Gault who wrote extensive articles on troughs for our newsletter, the panelists are Rob Staniland, Cathy Kurio, and Barb Portlock.  Troughs are insulated outdoor containers showcasing miniature rock gardens.  They are an excellent way for beginning rock gardeners to start working with alpine plants, rocks, and soils.
This will be a hybrid meeting — members are invited to come to an in-person meeting at Lakeview Community Hall, and the meeting will be shared through Zoom for those who prefer to stay at home.
Come see the adorable unique plants that Shawn grows here in his Calgary home and talk about the plants he is so passionate about, especially Cypripedium orchids.  This is an online talk.  Members will receive a reminder with the Zoom link a day before the talk, and do not have to pre-register. Non-members are invited to either join CRAGS (on the Members page), or register for this event for a small fee via Eventbrite.
Red seal Journeymen landscape gardener Shawn Hillis has more than two decades of accomplishments with a diversified palate of experience in the green industry.  Shawn is the sole proprietor and the inspired spirit behind Garden Slippers.  Garden Slippers is a small nursery dedicated to propagating native temperate orchid species and their hybrids. Garden Slippers is proud to be in its 15th season of informing, educating and making these rare exotic gems available to the Canadian gardener.  The Canadian Orchid Congress has awarded Shawn with a career achievement award for his tireless efforts in bringing these exotic gems into cultivation here in Canada. Garden Slippers has received 8 Awards of merit from the American Orchid Society including the seldom awarded Artistic Merit for a display by a grower for the following cultivars:
Cypripedium Pixi 'Pop'
Cypripedium Pixi 'Purple Haze'
Cypripedium parviflorum var pubescens 'Bumble Bee'
Cypripedium franchetii 'Foothills'
Cypripedium Ventricosum 'Jenny'
Cypripedium guttatum "Spot"
Cypripedium Victoria "Secret"
Cypripedium Monto 'Pronto'
Cypripedium Sabine Pastel "Ivory Rose"
Cypripedium x ventricosum Goldschuh "Midas"
Elisabeth will discuss methods of growing alpine plants in various types of rock gardens: walls, troughs, bogs, roofs, stairs, crevices, and others.
Elisabeth Zander is the past president for the North American Rock Garden Society and its current webmaster. She retired from computer programming a few years ago and is now busier than ever. Elisabeth lives in the Berkshire Hills of CT with her spouse, 2 mini Aussies and a cat who all help her manage her extensive gardens. (The dogs keep the numerous chipmunks, moles, voles and rabbits at bay. The cat eliminates the voles and mice.) The garden was awarded the Linc and Timmy Foster Millstream Garden Award in 2018. Elisabeth was awarded the Marvin Black Award in 2021
This is an online talk. CRAGS Members will receive an emailed invitation and an emailed reminder with the Zoom link. Non-members are welcome to register for the talk on Eventbrite ($8 tickets) or purchase a CRAGS membership on the Members page.
Cracks and Crevices — a Zoom talk on crevice gardens presented by Paul Spriggs
Paul, who spoke to CRAGS in 2016 , will touch on aspects of crevice gardening including History, Design, and Construction. He will also show some examples of some fine international crevice gardens, and talk about some of his favourite plants suitable for this type of garden.
Paul Spriggs has been rock gardening for roughly 23 years and building crevice gardens for about 16 years. He is an avid plant explorer, photographer, mountaineer, owner of Spriggs Gardens Landscaping company, and past President of the Vancouver Island Rock and Alpine Garden Society. He has a passion for all wild plants especially those of dwarf stature and collects and cultivates them at various gardens in his hometown of Victoria, BC, Canada. Paul has learned the craft of crevice garden building directly from one of it's innovators, Zdenek Zvolanek, of the Czech republic, and in the past decade and a half, has built many gardens in public parks and private homes that range in size from small feature troughs, to large installations involving many tonnes of stone. Paul is passionate about spreading the word of this style, through speaking to garden clubs all over the west, and by giving workshops for those keen on learning the finer points of this developing art form. He has just finished his work on the first North American book on Crevice gardening With co-author Kenton Seth of Colorado, due out spring of 2022.
This is an online talk.  Members will receive a reminder with the Zoom link a day before the talk, and do not have to pre-register. Non-members are invited to either join CRAGS (on the Members page), or register for this event for a small fee via Eventbrite.