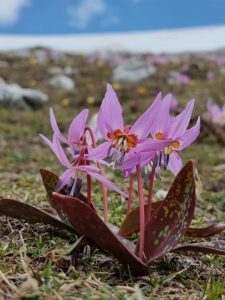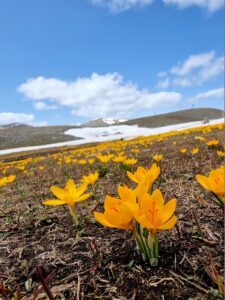 This meeting will start off with our AGM which will be kept short so we can listen to the presentation.
This hybrid in-person and Zoom meeting will feature Oron Peri, a distinguished plantsman, botanist, author, as well as a leader of botanical tours in different parts of the world. He is a world expert on Bulbous plants of the Mediterranean and his book 'Bulbs of the Eastern Mediterranean' was published by the AGS in 2015. Oron was born in Jerusalem where his family has been living for many generations. Oron is also the owner of 'Seeds of Peace' a nursery specializing in bulbs, mainly from the Mediterranean.
Our thanks to NARGS (North American Rock Garden Society) for contributing to the travel expenses of this speaker so that we can enjoy an in-person visit from an internationally known rock garden expert.
Everyone is welcome to this meeting held at the Lakeview Community Hall in Calgary.  See our Contact page for a map.  Members will be sent a Zoom link if they can't attend in person.  It's time to renew or buy your annual membership in CRAGS. so you can renew in person on on our website's Members page.
This hybrid (in-person plus Zoom)  meeting will feature Paul Spriggs of Victoria, who is well known to CRAGS as a passionate and knowledgeable rock gardener. Paul will discuss some of his favourite plants for crevice gardens. Learn how the crevice environment is ideal for many alpine plants.
Paul Spriggs has been rock gardening for over 23 years and building crevice gardens for about 17 years. He is an avid plant explorer, photographer, mountaineer, owner of Spriggs Gardens Landscaping company, and past President of the Vancouver Island Rock and Alpine Garden Society. He has a passion for all wild plants especially those of dwarf stature and collects and cultivates them at various gardens in his hometown of Victoria, BC, Canada. Paul has learned the craft of crevice garden building directly from one of its innovators, Zdenek Zvolanek, of the Czech republic, and in the past decade and a half, has built many gardens in public parks and private homes that range in size from small feature troughs, to large installations involving many tonnes of stone. Paul is passionate about spreading the word of this style, through speaking to garden clubs all over the west, and by giving workshops for those keen on learning the finer points of this developing art form.
Paul and co-author Kenton Seth of Colorado published the first North American book on Crevice gardening, The Crevice Garden (Filbert Press, 2022)
The meeting will be held at Lakeview Community Hall for those who wish to meet in person.  Members will be also be sent the Zoom link prior to the meeting.  The talk will be recorded and made available to members for one week.