CRAGS is a group interested in growing alpine plants in Calgary's challenging climate. Alpine plants are perennials found near or above the tree line in mountainous areas.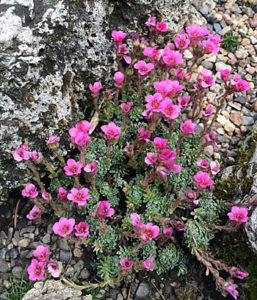 Why garden with rock and alpine plants?
compact size means more variety in a small space
hardy plants, well-suited to Calgary's climate
unique and diverse plants from the mountain regions of the world
small troughs or large crevice gardens can be showcases
native plants support pollinators
use of rocks and alpine plants is inspired by nature
Join CRAGS and …
learn from interesting speakers about plants, garden design, and travel by plant-lovers
enjoy workshops to advance your gardening skills
be inspired by local garden tours (members only)
get friendly advice and support
make new friends in a small club
See the Membership page for details, and to join or renew.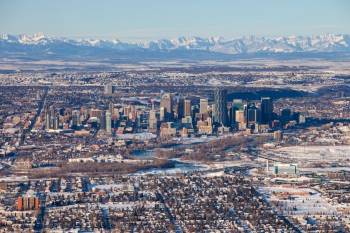 The Calgary Rock & Alpine Garden Society (CRAGS) is a non-profit society formed in 1994, from its origin as the Calgary Horticultural Society's Alpine Study Group, formed in 1991. CRAGS is the Alberta chapter of the North American Rock Garden Society (NARGS), an associate member of the Calgary Horticultural Society, and an associate member of Friends of Reader Rock Garden Society.
CRAGS members cultivate and showcase alpine plants in rock or container gardens. The society caters to beginners and experts alike, in various aspects of rock and alpine gardening including alpine plant education, propagation techniques, rock garden and container design and construction.
Calgary, Alberta in winter. iStock.com/dan_prat
Calgary is a city in Alberta Canada with a population of over 1 million, close to the eastern slopes of the Canadian Rockies. Calgary's average elevation is 1128m (3700 feet), making it prime alpine plant country. Situated in hilly terrain, the difference in elevation between the lowest and highest places is over 268m (879 feet) resulting in numerous micro-climates throughout the City; zone 4a at the lower elevations and zone 2b at higher elevations. We experience late spring and early fall snow storms, hot dry summers with cool evenings, and winters alternating between extreme cold and thawing spells caused by dry Chinook (Foehn) winds. Annual average precipitation is 413 mm.