Upcoming Events
Monthly meetings are usually the second Thursday of the month, except July, August, and December. Meeting Social (beverages & snacks available, a chance to meet and talk with fellow gardeners) at 6:30 p.m., meetings begin at 7:30 p.m.
Meetings are held at the Lakeview Community Association Hall (see map), 6110 – 34th Street SW, parking is free.
Jay will discuss montane and great basin plants from the Southern Rockies to Western Canada. He'll focus on genera native and familiar to us in Western Canada, such as Penstemon, Eriogonum, Castilleja and the hardy cacti, etc – but with the added twist of the many additional hardy species and forms in the Southern Rockies and Great Basin.
Jay Akerley is a rock and alpine gardening enthusiast with gardens in both Greater Vancouver and high on the Thompson Plateau in BC's Interior. His background is in geography and horticulture. He collects seed in rugged environments across Western North America, for seed exchanges , his own gardens, and those of specialized growers around the world. He has published ten articles in various journals, and participated as a volunteer with the North American Rock Garden Society, Alpine Garden Club of BC and other gardening clubs.
Past Events
Feast your eyes on the wonderful carpets of wildflowers and the magnificent scenery of Switzerland.  Many of our prized rock garden plants such as Trumpet Gentian come from the European Alps, and Julia Corden has led botanizing trips in this area.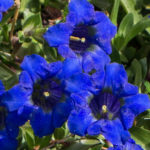 Julia Corden is Manager of the Explorers Garden in Pitlochry, Scotland, which specializes in the plants brought from around the world and introduced into horticulture by such explorers as Menzies, Douglas, Lyall, and Forrest. Julia trained at the Edinburgh Botanical Gardens, achieving her diploma in horticulture. Following work in New Zealand, plant hunting travels through Hawaii, Delhi and Bangkok and restoration work on an East Sussex estate, she returned to Scotland to take over management of Explorers. She also leads botanical tours and explores for plants in many areas, most recently Bhutan.  For non-members, this talk is $10.